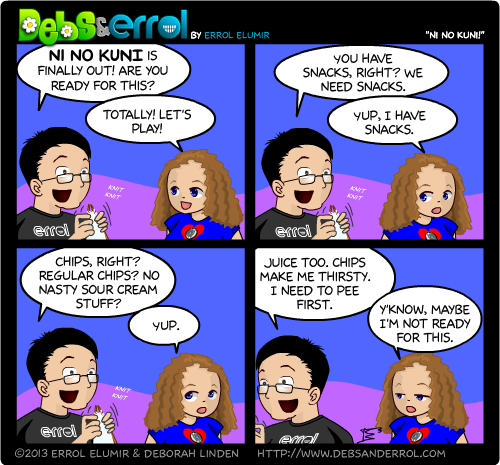 Errol: We were up till 1:30am playing Ni No Kuni. It's made by Studio Ghibli and the Level 5 (who made Professor Layton). I threw my money at them I was so excited.
So far, the game is very pretty. There are a lot of animation sequences and although the story seems simple to and standard to RPG's, it isn't dull.
I also ate almost all of Manpans food. It was a great night.
Manda: I am very tired today
. ugh…maybe I should call in sick…stupid guilt stopping me. Anyway! Yes, the game is extremely pretty but I can't wait to get past the tutorial stage (which seemed to take us 3 hours!) so that we can get to the meat of the game (which seems to be pokemon battles!). Right now we're getting interrupted every two minutes to be told of yet another feature! Phew! I was actually expecting Errol to play and me to watch since I actually like watching games, but he told me to play and I only panicked a couple of times during battle! Also, when hungry, thirsty and excited Errol is essentially three ten year old's rolled into one.