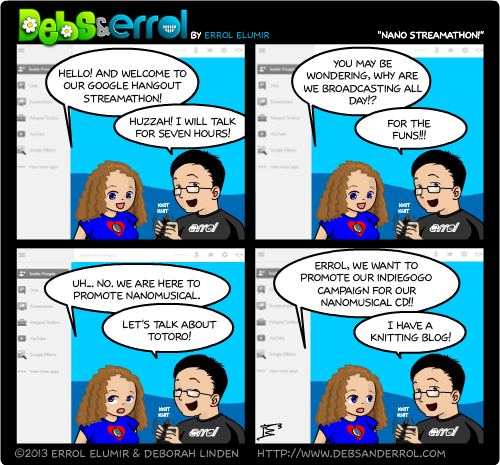 Errol: Wow. That was so much fun, but so crazy! We were on air for SEVEN HOURS! And there were a lot of you WITH us that whole time. Wow. I'm exhausted just thinking about it.
Did we raise our goal for our IndieGoGo campaign? Sadly, no, but we did raise money. I think I'm going to ask Neil Gaiman to promote it when he's online.
Manda: This was insanely fun. The moment we hit "End Broadcast" though suddenly the seven hours of talking caught up with me and it was all I could do to stay awake on the subway and not look shell shocked. I'm not used to talking for more than one hour at a time let alone seven. To give an indication, a two hour performance that I do for a play usually requires enough energy physically and mentally that I sleep comatose for the night after it's done. This is…seven hours…tons of fun…but man… I might even call in sick for work tomorrow. My friend tried to call me to talk and I just flat out told her no. Instead I decompressed and watched a movie in silence
. Thanks for sticking around with us! It was a ton of fun!