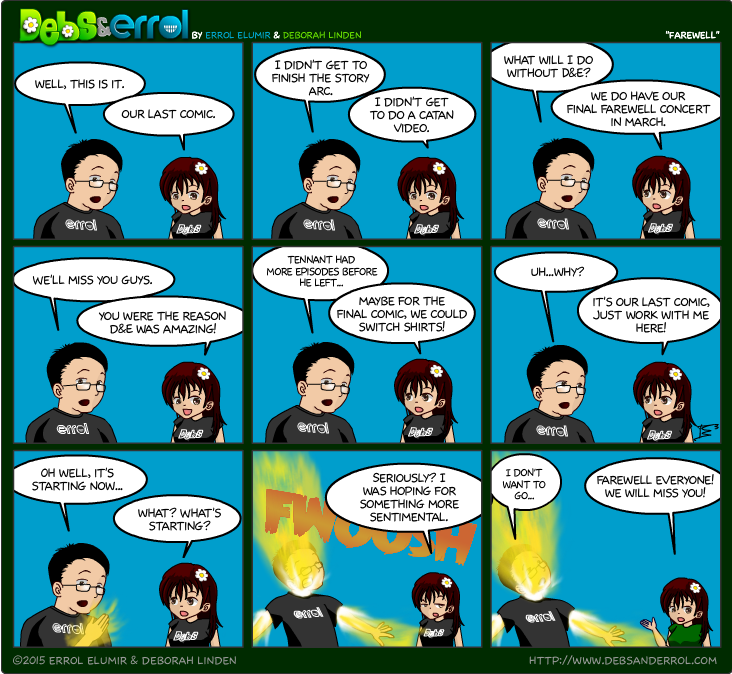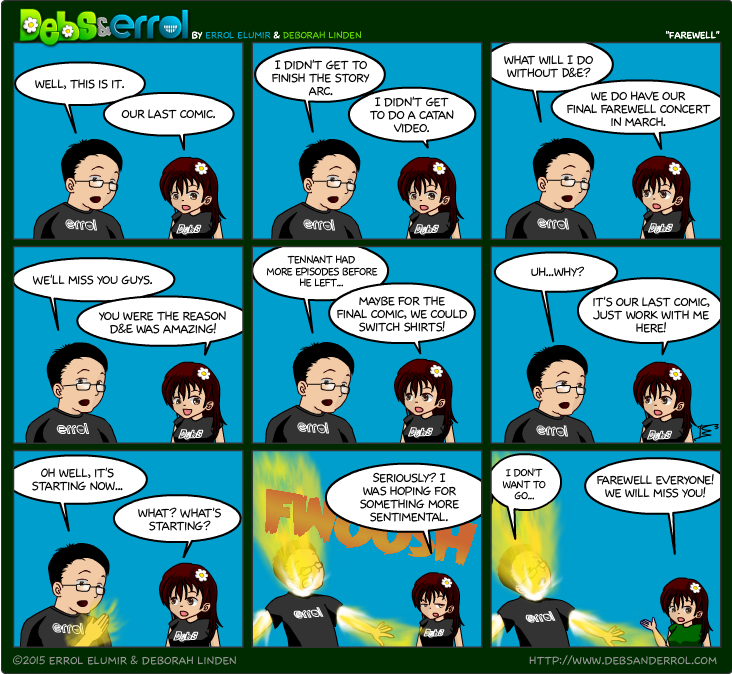 Hi Everyone,
The time has come to share some difficult news with you. After three and a half wonderful years as Debs & Errol, the two of us have made the very hard decision to part ways.
We want you to know that this was not something we came to quickly or lightly. The band is very dear to us both and has been a central focus in our lives for a long time. It is sad and strange to imagine ourselves without it. But as people and as creators, we have evolved and grown and each of us must ultimately follow our own path.
We feel so humbled and privileged to have shared this journey with all of you. Because of you, Debs & Errol is so much more than just music, so much more than just a geeky web comic. It's a community of incredibly close-knit people who care about and support one another. This is still something that amazes us every day, and we know that the connections and friendships that we have formed together will not go away anytime soon.
Other bands have told us that we have the very best fans in the world, and they are absolutely right. You have been amazing. You have been fantastic. You have cheered us on, suggested song titles to us and helped us create albums. You have dutifully read our webcomic, tweeted, commented, and shared us with your friends. You have been right there with us every step of the way, through the laughter and silliness, and also through a few tears. You have shared in our lives and let us into yours. For this, we are deeply, deeply grateful.
We would like to thank Monkeyman Productions for starting us off, and the National Novel Writing Month and the filk communities, both of whom welcomed us into their midst right from the beginning. We are so proud, too, to have been part of the growing Geek Music scene in Canada. When we first started, we were just excited to find people like Nerds with Guitars who graciously let us perform with them. Since then, more talented bands have come into being and we've had the privilege to collaborate and share the stage with many of them. Seriously, there is amazing music out there and we can't wait to see what the future holds.
We both intend to continue on with creative things, so do keep up with us! First, we are going to hold a farewell celebration concert which will most likely be on March 7th. We hope to invite some of our musician friends and if they acquiesce, we hope they would be willing to perform with us and/or cover our songs. That would be awesome!
Errol is addicted to webcomicing, so please join him as he starts another daily webcomic. Who knows what it will be about. He doesn't. Join him here, because he misses you guys. Debs will never be as prolific as Errol when it comes to social media, but she does have a Facebook page and a newsletter for her musical explorations.
In closing, our most heartfelt thanks and gratitude to all of you. We'll say it again: you are the best fans – and friends – a band could ever have. Take care of yourselves, and don't be strangers. We'll still be around on the internet! Especially Errol. He lives on there.
Love,
Debs & Errol