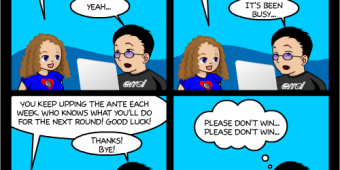 Errol: First off, I am SUPER APPRECIATIVE of your support. I was hesitant of putting this comic up because it sounds like I am taking it all for granted. I'm not. I am surprised by the dedication I am hearing from a lot of you when it comes to voting and you are awesome.
And the further we get in this contest, the better chance of us finding more and more of our audience! In fact, just with what we have now, I have introduced more people to the wonderful world of geek music! And not people that needed to be convinced, but those that would actually be interested! That's awesome!
However, it is tiring. And although it'd be amazing if we did get into the next round, that would mean even more work because I can't seem to help myself when it comes to this. And I haven't done my taxes yet either. Oh Well! We'll find out this afternoon!
Thanks again, guys! And win or lose, I plan on taking the pictures you've given me and making it a collage for our FB page! ^_^ So if anyone wants to send in more pictures of #VOTEGEEK, that'd be awesome! Continue