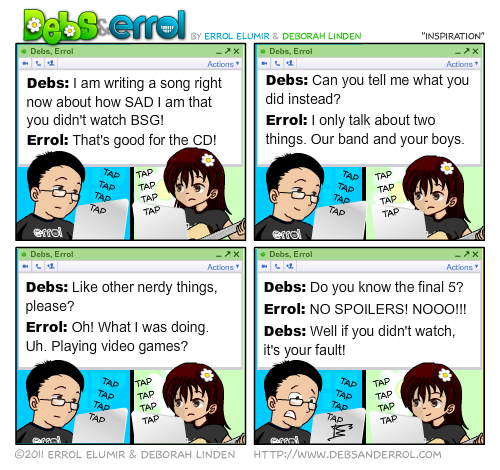 Errol: And thus was born the song which still isn't titled. It took Debs two days to write, and it's pretty awesome. Look for it on our upcoming CD. 😀 Or our shows. One of the two. 😀
Debs: It's kind of an emo song.
Errol: And just to prove this is verbatim, this is our chat log from May 12.
Debs: you know waht the best swearword is? frak
Errol: I still need to finish BSG
🙁
Debs: WHAT?!?!?!?!
YOU HAVEN'T FINISHED BSG?!
Errol: no 🙁
Debs: ARE YOU INSANE?!
where are you?
Errol: at home
working
Debs: in the series!!
i'm going to write a song about how sad i am that you didn't finish bsg
Errol: oh, uh, start of season 2
Debs: START OF SEASON 2?!?! that's it?!
Errol: ya
Debs: WHY DID YOU STOP?
Errol: because I got busy
and didn't start up again 🙁
Debs: i'm writing you a song. right now
about how SAD i am
Errol: 😀
oooh, this can go on our ep
Debs: our CD?
you just rhymed BSG and busy for me
Errol: 😀
it should go on our CD
OF COURSE OUR CD!
Debs: can you tell me other things that you did instead?
Errol: I ONLY TALK ABOUT TWO THINGS WITH YOU
our band
our cd
your boys
Debs: like…other nerdy things please?
Errol: oh
uh… let's see
when did I start watching that and had to stop…
hold on
Debs: waaaaaaaaaaa!
Errol: wait
what?
oh, what was I doing
sure, uh,
playing video games
plants vs zombies or something
(ok, maybe not, but something video game related)
Debs: * sobs *
Errol: reading
what's wrong?
why are you sobbing?
Debs: HOW COULD YOU NOT WATCH IT?!
Errol: I can't remember what happened
there was a reason I had to stop
like, I went away
and then I didn't get a chance to start up again
Debs: do you even know who the final 5 are?! or that there are final 5?!
Errol: no
don't tell me
don't tell me ANYTHING
NO SPOILERS!
NO SPOIELRS!
Debs: well if you didn't watch it's your fault
do you know about the final 5?
Errol: no