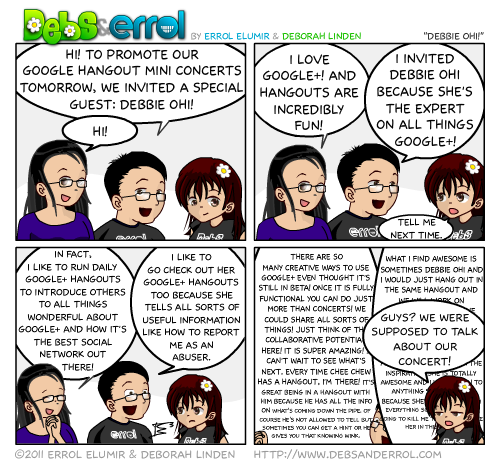 Errol: If you have ever wondered what a female, more successful and charming Errol would be like, it would be Debbie Ohi. She's a writer, an illustrator, a musician, a filker, a boardgamer, and a social network guru. I trust her implicitly with anything online and she has given me oodles of advice and wisdom. We have done a few collaborative works together (The Nanotoons for Nanowrimo) and I cover one of her songs on the upcoming Debs&Errol CD. 😀 In fact, it was her idea to do a Google Plus Hangout concert! So I had to do a comic about her! I didn't have time to make her look more enthusiastic, unfortunately. The comic doesn't do her justice. 😀 Next time I will. Next time.
Anyway, when we get together, it's non-stop talking. I don't know who hogs more air, but we certainly have fun doing it. 😀
Oh wait, I was supposed to talk about our Google Hangout Concert this saturday. That's in the post below and in the side bar.