Google+ Concert 2: 2 & 5 On Sunday Aug 14th
This is a sticky! Our regular programming continues after this post.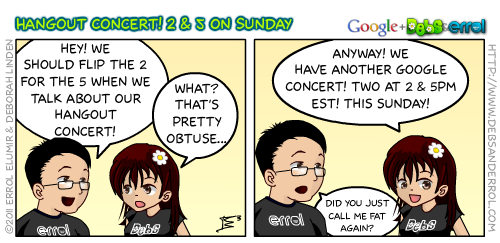 For those of you on G+ who are geeks. We have another Google hangout concert this Sunday!
Remember, only 10 people can be in a hangout at once, so this gives you two chances to get in! HUZZAH!
Details:
Sunday Aug 14th
1st Mini Concert: 2:00pm EST
2nd Mini Concert: 5:00pm EST
WARNING: This music is GEEKY. VERY GEEKY. When we perform at improv shows, a lot of people do not understand us. But that's ok, I'm used to that. At least Debs sings nicely. 😀