[Video Request] NaNoWriMo Video Help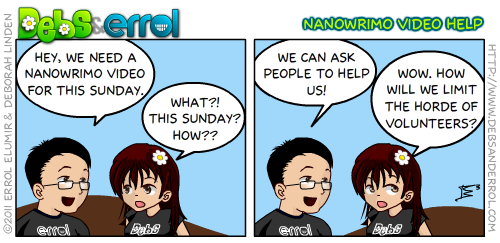 If you are doing NaNoWriMo, we want your help! We want to release a video to launch off NaNoWriMo but it would be much cooler if I could get more than just me and Debs.
So, this is what I need. I need YOU to lipsynch this song, which is a parody of the Muppet Theme:
and then video tape yourself doing so. And then get the file to Errol using Vimeo (which allows downloads) or YouSendIt or whatever.
And then I'll include you in the video which I hope to post on October 31st! Yes, that's in less than a week.
Here are the lyrics to the song. You lipsync the part in RED!
Vix: It's Nanowrimo with our Very Special Guests, Debs & Errol
GIRLS: It's time to sharpen pencils
it's time to check the site
It's time to get things ready
for Nanowrimo Night
BOYS: it's time to charge our laptops
it's almost time to write
It's time to buy some coffee
for Nanowrimo Night
Debs: Why do we always do this?
Errol: I know it's quite absurd
Debs: It's like a kind of torture
Debs/Errol: to write fifty thousand words!
Vix: And now we'll get things started
ALL: Why don't you get things started?
It's time to get things started
ALL: On the most sensational
inspirational
celebrational
Nanosational
This is what we call NaNoWriMo!
I hope that makes sense! To recap:
WE ONLY WANT NANO PEOPLE. If you aren't doing Nanowrimo, sorry, you can't be in the video. You can be in our other videos. 😀
Download Nanowrimo Tonight Draft
Keep a copy of lyrics handy
Video tape your upper body. Probably chest and up to be consistent.
KEEP THE AUDIO IN. I will need to synch what you are hearing to my audio. 😀
Lipsynch the part in red. Dance during non singing parts, I may use it! 😀
Send a LINK of that video to errol@elumir.com
Include your username so that we can tell you are doing Nanowrimo and we can credit you.
Do not send the actual video, it will be too large

DUE DATE

: THIS FRIDAY, October 28
Thanks so much, and I hope you have fun during Nanowrimo! I know we will. 😀