Comic 350 – "Pinterested"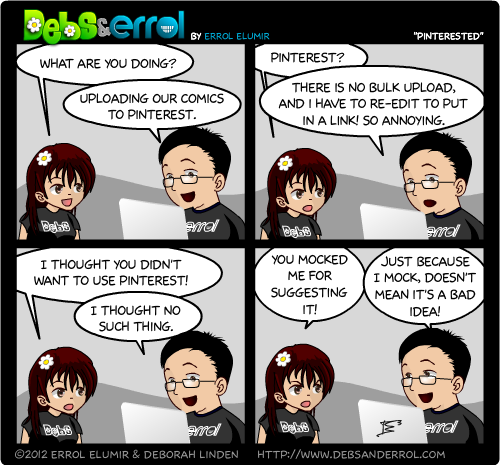 Whitless:  There are still many things I'm learning about Errol.  Normally when someone makes fun of something I think of it means that they don't like the idea and think it's crazy.  Then I keep quiet and mope for a while.  Not Errol.  He mocks regardless of whether an idea is good or bad.  His mocking knows no boundaries.  In a way I guess it's giving equal treatment to all ideas, but it still makes it confusing as to which ones he actually likes :P.
Errol: I like ALL ideas! In fact, ideas I don't mock and silently ignore, then those ideas I probably won't use. 😀 Heck, all I do is mock myself and my silly ideas for songs, but that doesn't make me stop doing 'em!