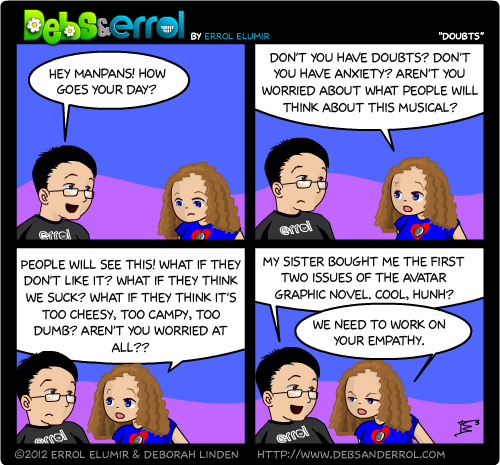 Errol: No, I don't worry. I've been a geek all of my life. And all of my life, I have liked things that the majority of people I knew did not know or care about. But I enjoyed it immensely.
Not everyone will like it. Not everyone likes Debs & Errol. I'm ok with all of that. As long as I, and the audience I have in mind for it, like it. 😀
Besides, this is a crazy, fun project. It's an insane amount of work, but I'm having a blast! 😀
Whitless:  I do worry, and I doubt a lot, especially when it comes to projects I really care about.  But I've also been having a lot of fun with this one, and the insane amount of talent we have in this one excites me.  The film process is a new one to me, and sometimes it's hard to see the big picture when you're filming bits and pieces here and there, so I can't wait to see what the finished product looks like.  It makes me wish it could be a full time job…it kind of already is, just without pay :D.