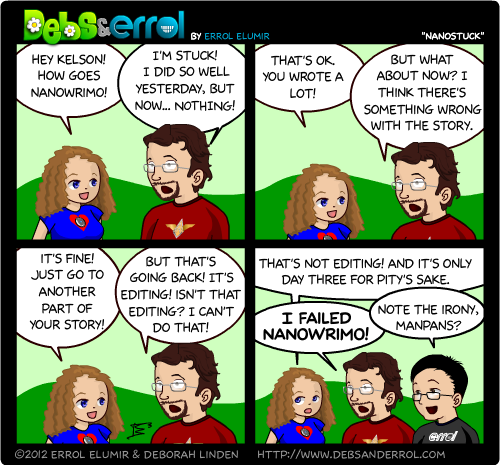 Errol: Warning, if you tell Manpans something, it may work my way over to me, and I put it in a comic. Ask Luke. He knows.
Manda:  I told Errol this one because we both know Kelson, and we both do NaNo, and this very much reminded me of my first year of NaNo.  The moment I couldn't think of anything to write, I considered my idea a dismal failure and almost gave up many times.  Now Kelson is going through the same thing :D.  Also, it's very odd when I end up giving pep talks that I know I myself never follow, although I know I should :D.
Kelson: As much as you many think this is Errol playing it up a bit… it really isn't.
And I wrote absolutely nothing on Saturday… I'M A FAILURE!!