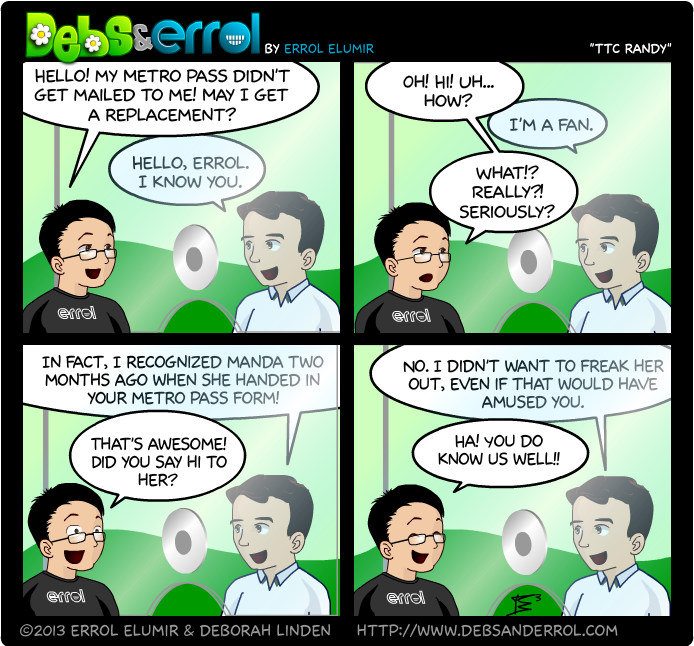 Errol:
Two months ago, I signed up for the monthly metropass, which allows me to take unlimited transit in Toronto. Since the Head Office is at the station where Manda lives, I asked her to hand the form in form in for me.
This month, it didn't get mailed, so I went to the Head Office to ask for a replacement.
Now, the above comic is not exactly true. I had another teller and as I was giving my information, I hear, "I know Errol."
I look up with this stunned look, and the other teller beside my teller was smiling at me. I was confused, wondered how he knew me and I stammered out a response.
He tells me he was a fan (as above) and I think I gave him this most dumbfounded look. *laugh* I almost didn't believe him. But I started talking to him and he gave me his name, Randy, and then I remembered where I met him, surprisingly enough. I don't normally remember names, but his face and name brought me back almost two years ago when I first met him at the Simian Showcase! In fact, Randy helped fund our first CD!
I was all excited to meet him again and I started talking as I always do, poor guy.
He then tells me that he did see Manda with my form but didn't talk to her. I mentioned that he should have because Manpans is 10 times shyer than anyone and that would totally freak her out. *laugh*
Other people, however, are a lot kinder to Manpans than I and Randy didn't want to do that.
It was totally an unexpected encounter and I think my teller thought we were strange. But it was exciting and fun! Thanks for the random meetup, Randy!

Debs: Okay, I have to admit that is pretty cool. Almost as cool as a stranger (now my friend Alan) coming up to me at Imperial and saying "I totally saw a video where the girl was in that exact shirt you're wearing."
Whitless: That's so crazy! What's even more hilarious is that Randy recognized me while I was handing in ERROL's form…I probably wouldn't have gone catatonic, but I definitely would have freaked out in secret :D. Small worlds!