Comic 816 – "Internet Still Down"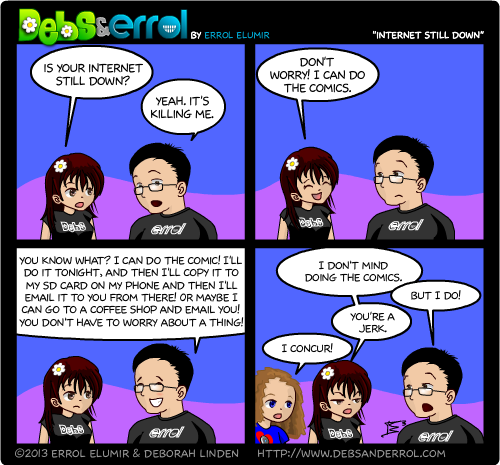 Debs:
Errol's figured out some genius way of getting the comic from his computer to his phone, and then emailing it to me, since his phone has internet. Instead of doing the comic, I finished embroidering yet another Totoro shaker, which means that I only have one more to knit for Indiegogo perks! It's going to take some experimenting though because it's a rather involved special request. Will Errol finish his third shaker before I finish my 23rd? Only time will tell.
And there's one important thing too! Project for Awesome, in support of charities that reduce world suck, is happening right now! Last year, we made a video for the Office of Letters and Light, and they won! We didn't make a video this year, but YouTube personality and musician Kristina Horner did make one for OLL, which you can find here. Voting makes all the difference, so check it out, and take a look at the many other amazing videos too!