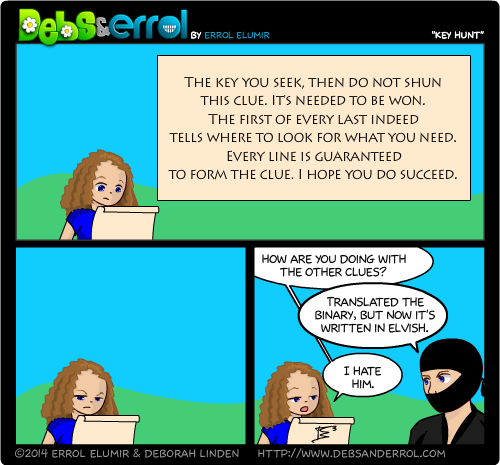 Errol: Honestly, when my kids get older, I can't wait to do really complicated puzzle hunts for them.
Manda: Hey, remember when Errol said he didn't have time to make puzzle hunts? The stupid Myst-phile in me is actually trying to solve this puzzle even when I don't need to. Stupid Errol. And seriously, you should have seen his easter egg hunt for his daughters. They are going to be evil geniuses when they grow up.
EDIT: I solved this riddle, and in response, Errol decided to make another one and ACTUALLY USE IT. Crap's sake. I will be moving in some boxes on Saturday and I expect at least an hour to be sent actually hunting for the keys. I am tempted to make an equally difficult riddle for future rent cheques.