Comic 1062 – "Kari Kickstarter!"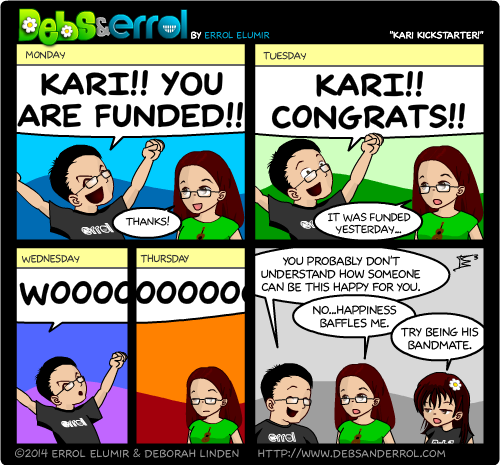 Errol: Kari made her Kickstarter!!! HUZZAH! We're so happy! ^_^
Debs: Yay Kari!! I have obsessively been checking every single day as a really weird morning routine 😀 SO AWESOMEEEEEEEE!!!
Kari: Yep. The project was fully funded by early

Monday

morning. Errol congratulated me via chat. He did it again

on Tuesday

. And again

on Wednesday

. I think he missed

Thursday

, but

Thursday

was also when he drew this comic. I'm not sure what's going to happen after the campaign ends

on Friday

night. There may be some more woo-hooing. I may have to hide under a large piece of furniture. We may all have to hide under large pieces of furniture. When Errol gets going, no one is safe.
Incidentally, thanks for all the support, guys. I know some of you found the project via this site. Hurrah for links.
Errol: Oh, and as a reminder, this Sunday is Marian Call's concert in the Distillery District! A bunch of us are going, so you should go to if you're near Toronto!