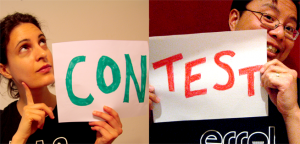 It's Debs!
Errol and I are in the process of choosing songs for our upcoming CD! We have our favourites, but we would like to write a few new ones too. Personally, I'm thinking very seriously about a soulful ode to a neti pot.[1] We don't want to make all the creative decisions though. Since the CD is fan-funded [2] (and fan requested!), we want you have a say on what goes on it. Our diabolical plan is as follows:
Comment here, and give us your random, funny, geeky song titles or ideas by May 21st, 2011![3] We will choose our 10 favourite and then let you vote. Whichever one wins (and this is completely up to you), we will write that song and it'll appear on the CD this August. Errol's nervous.[4] I think this is made of win.[5]
Errol: And what does the winner get? Why, OUR CD! HUZZAH!
Edit (May 23rd):
Ok! The Titles/Themes have been selected and here is the poll! Sorry if your choice wasn't selected, but there were a few reasons why we couldn't pick some (like if there were similar songs now or if it was too close to a song that we already have on the CD, etc). So, please vote for which one you like best!
Poll closes on June 1st.
Edit (June 1st):
Errol: And we have a winner! Yes! Eric August's title suggestion of "Timmy the Combat Wombat" has won the contest! That is so exciting. He will get a CD for sure! Thank you ALL for your entries. That was so cool. I have to do more of these contests.
What Title/Theme Would You Like Debs and Errol to make into a song?
Timmy The Combat Wombat (18%, 10 Votes)
It Might Have Been Dead (16%, 9 Votes)
Skeletor In Love (16%, 9 Votes)
Schrödinger (14%, 8 Votes)
My DM Hates Me (11%, 6 Votes)
After These Messages, We'll Be RIIIIGHT Back! (9%, 5 Votes)
Ghostbusters (7%, 4 Votes)
Magnets Are Cool (7%, 4 Votes)
Boardgame (7%, 4 Votes)
Mimosas in Middle-Earth (5%, 3 Votes)
My Bone Eating Snot Flower (5%, 3 Votes)
Let's Go, Gojira! (2%, 1 Votes)
Otak-u-ke (2%, 1 Votes)
Total Voters: 56

Loading ...