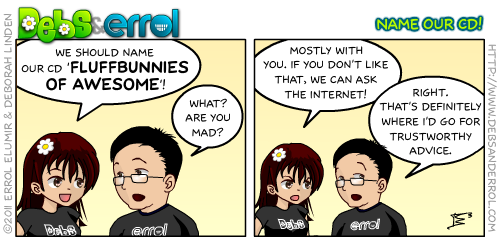 Errol: That's right. We're having troubles naming this CD. So, if you have any ideas, please comment below! You can comment as many times as you want. The CD Title has to fill two criteria:
1) Debs has to like it
2) Errol has to like it
That's pretty much it. In the end, we may come up with a CD Title we like on our own, but I'm not holding our breath!
And the winner? They get a free CD! Huzzah!
CD TRACK LIST
These are the songs that will be on the CD, but this is not the order. If you want to give us ideas on track order, that's good too! 😀
Double Rainbow (Cover)
That's What I Want In A Girl (written with Jeffrey Rankine)
I Wish Totoro Was My Neighbour (written with Robyn Mackenzie)
Narwhal Pet (written with Erin Morgan)
Walkthrough (written with Pifie)
Gaming With You
My Pachelbel Song
BSG
Beastmaster's Cry (written with D.J. Sylvis)
Geek Love Song
Cuz He's a Geek Guy (written with Debbie Ohi)
AT-ATs in the Snow (written with Michael Skliar)
Vomit Exclusively (written with The Cow Exchange)
Timmy The Combat Wombat