Errol:
No, you can't get Settlers of Catan for the Commodore 64, but since we have no comic today, and I'm up early I may as well do a little blog post.
Debs is at a wedding. They didn't ask D&E to play at this wedding, I don't know why, other than we don't play weddings, but still! However, my friend Vix sent this to me last night.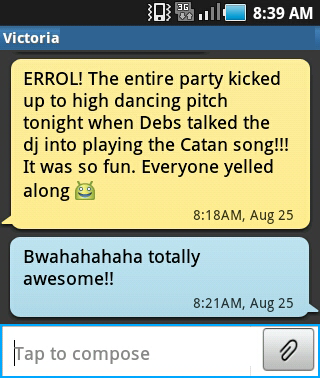 Errol: And for those that are interested in listening to the song again
Errol:
In other news, I was up late last night reworking the lyrics for Commodore 64. Uh, I don't know if we mentioned that we're going to try to get it on the album. Debs will probably get mad at me now, because I don't think we said we were doing it yet. Oh well. That means all ten of you that check this site regularly will know.
And you know what's exciting? D&E on top ten lists! This was LAST YEAR! How on earth did I miss this. I need to have a press link and collect every place we're on the internets! So exciting! Please, if you ever find an article, by all means tell us! Heck, submit our stuff to geek sites that you know, for that matter. All sorts of awesome.