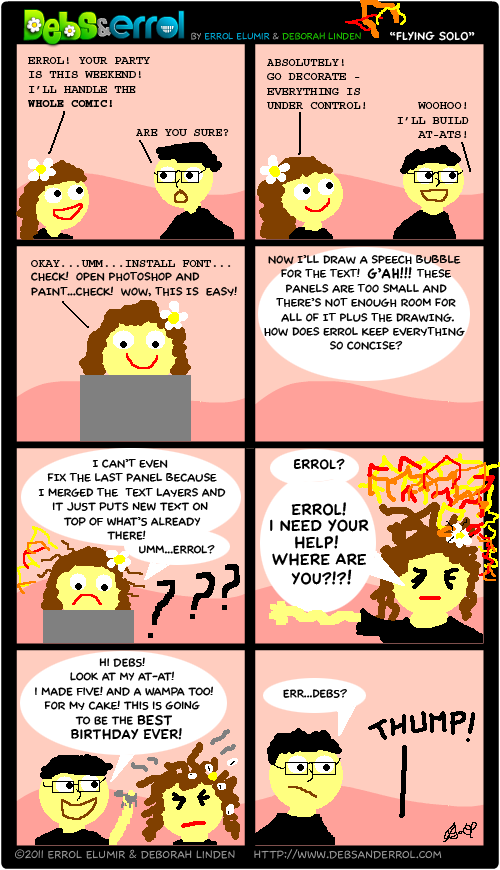 Debs: Marty gets credit because he inspired the original idea, though I changed the second half when I ran into that Photoshop issue. But yes, this comic is accurate except for the five AT-ATs, because Errol only built one. See! There's G-Chat proof:
Debs: errrrrol
Errol: sorry I'm here now. what do you need help with? just send me what you need me to do and I'll do it
Debs: i have to ask you how to do something for the comic. how do i modify text if i've merged text layers together? instead of it appearing on top
Errol: Er… if you merged the text layers. that's it. it's merged. which is why… you shouldn't merge or rasterize anything 🙂
Debs: crap. okay. that doesn't help the comic at all. why does it create a new text layer every time i type in a different place?
Debs: I do ask Errol for computer help 24/7. It's not even all Debs & Errol related either – he just helped me launch my personal site. He lets me watch his screen as he does things so I can learn and go try them myself. A week ago, I never would have touched Photoshop. Errol, you are completely awesome. I mean that "emotionally and seriously"!
Errol: Hee hee, I like how the face in the 3rd panel looks a bit like those ones from the female rage comics. 😀 Good job, Debs! What's that thing beside the title of the comic? It looks like a flame with horn-rimmed glasses.
And poor Debs, she had this last edited at 3:38am in the morning! She doesn't get any sleep!

Debs: It's fire! The comic was done before that, but I was out and got home late 🙂