Caption Fun – We're Almost to 200 Comics!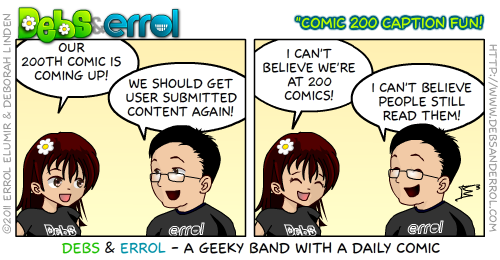 Errol: Allooo! That's right, we are coming up to 200 comics, and we want to make you guys do some work again! Huzzah! All you have to do is take one of the two (or both of them) and fill in some dialogue! Or, if you want, draw it yourself, we aren't really too worried what you do. Then, on comic 200, we will post em all (well, we may veto some!)! How fun is that!
Due Date: December 16th, 2011
Here are the templates for you. You can click on them and then download them!
Remember to put your name in where it says "by". You can also put in a title if you want.
Debs: I can make templates of my comics too if anyone wants!  Except they won't have mouths (you'll need paint) or speech bubbles.  'Cuz that's how I roll.