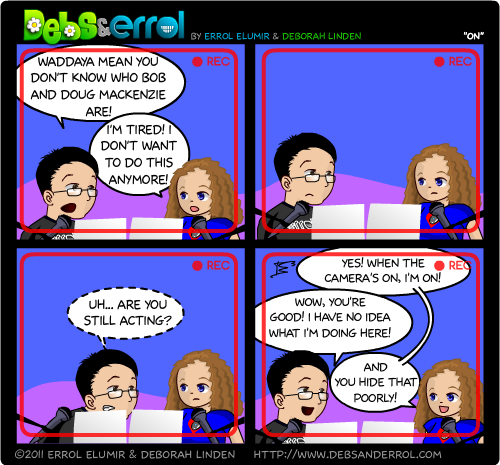 Errol: If you are all worried that I'm replacing Debs or something, I'm not.
Debs: This is because I'm dating, isn't it…
Errol: She and I have many gigs lined up, and she is very much part of this band. I think. I really haven't talked to her about it. I hope she is. If anyone sees her, could you ask or something?
I'll also include Manda's comments, since she's been posting these on her FB page a lot more quicker than I'm posting them on our FB page. 😀
Manda: One more comic with Debs and Errol. I think this is the last one since you know, the band is called DEBS and Errol and I have little inclination to take over her spot…she's way more talented. Also, I remember this moment in the night very well. It's right up there with "Come see my dead bird" moment :P.
Errol: Sorry Manda, don't worry. It's not the last one. I know you're subtly trying to hint you wish it to be, but it's not.
Debs: Manda, I look forward to meeting you sometime and sharing "how the heck do we put up with Errol" stories over drinks.  We can Skype in Lizette!