Comic 234 – "New CD Name"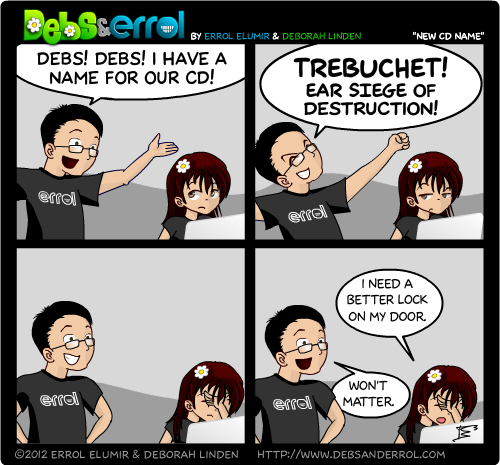 Errol: I was out playing LA Noire with Manda, and then this name popped into my head so I grabbed Manda's phone and started texting Debs.
I do admit, I have a hard time texting on Manda's phone because I can never find the text app. It's a blackberry, and they confuse me. And then I get confused because the enter is the send, which is right below the delete key, so I accidentally sent Debs three texts trying to get it straight.
Of course, Debs never texts me back because she only has limited texting and gets mad at me for filling up all the memory on her phone.
Manda probably wonders why I'm always on her phone.
In the end, Debs never likes my ideas. *sigh*
Debs: Hey, you only said "Trebuchet".  "Ear Siege of Destruction" has some potential…I still like "Debs & Errol vs. The Purple-Horned Majestic Narwhal" or some such.
 Errol: Ooooh! "Debs & Errol vs the Ear Siege of DESTRUCTION" Why would we go up against the Narwhal? I would join it.
Debs: Well, because then each CD we put out would be vs something else random!  I kind of like "Songs in the Key of Geek".  Sigh.  At this rate we'll probably just call it "Debs & Errol".