Comic 258 – "Cunning Plan"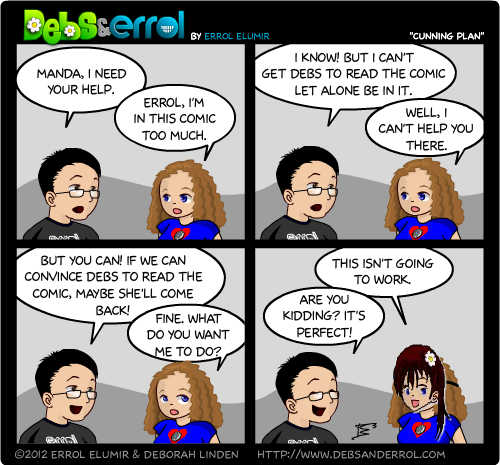 Errol: Need to get Debs reading this comic. How? It doesn't help she doesn't have internet access at times.
Whitless:  It's true, I am in this comic too much and I have told Errol that much.  I am angering the Debs fans.  Soon I will open my door and there will be pitchforks and torches and angry squishy faces that want to murder me for taking away the far more awesome Debs.  And then I'll have to run and go into hiding.  Perhaps I'll take another name….like El Actoro…yeah…and I'll become handy with knives and stuff and be all badass!  This is gonna be awesome.
Also, it feels like every time I say something to Errol, his reply is always "Can I put that in the comic?".  I'd like to think it's because I'm comedy gold, but it's more than likely my insanely awkward ways are hilarious to all.  Sigh.
Dear Whitless. I need to teach you how to colour-code. 😀
Debs: Bwahaha!  This is AWESOME 😀
Errol: HUZZAH! IT WORKED! 😀