Comic 336 – "Mailing List"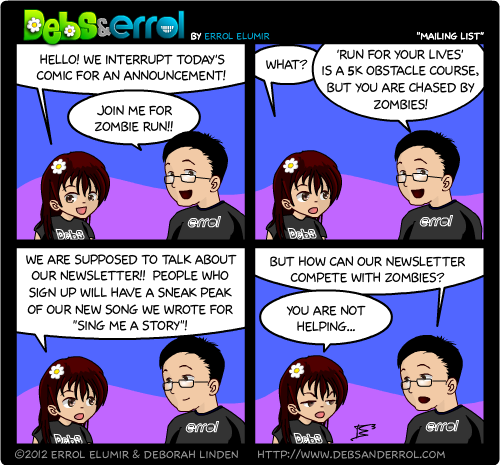 Errol: Yes, I'm doing Run for your Lives. I'm a zombie for Shift 2 (Shift 2 CHASER (11:20 AM – 2:40 PM)) and I'm running the 9am 3rd shift. I'm doing both! Huzzah! 😀 Our Zombie team is called BRAINFINGER.
Anyway, if you are part of our newsletter, great! If not, you should totally sign up! Totally! You will get a sneak peak of the song we wrote for Sing Me A Story! It's one of the few songs that Debs and I actually wrote together!
Totally sign up. Debs writes the newsletter! It's all good. One day, I'll read it…I KID!