Comic 357 – "SAP Meetups"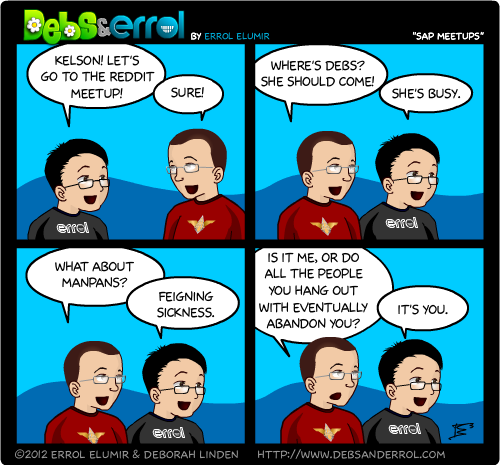 Errol: I keep going to these meetups. They're all younger than me… and inebriated. 😀 Kelson did introduce me to a cool drink though!
Kelson: "Yes, Errol and I went to a Reddit meetup. Why? Because it was Saturday; and Errol, being the eternal fountain of energy, and I, being the typical Redditor SAP until there is a bit of a party and booze, somehow get along *Nigel Thornberry* smashingly. (If you don't get that, it's ok, it's Reddit) Also, Errol would randomly cheer for something in the way only he can, and the entire room would join, even though no one would know why, not even Errol. It was awesome.
Errol: Wait a minute, I knew why I was cheering! Wait, I forgot now, but I knew at the time. One of my cheerings was over totoro. Someone I met was part of the totoro subreddit. That was exciting. 😀