Comic 376 – "Designer Nights"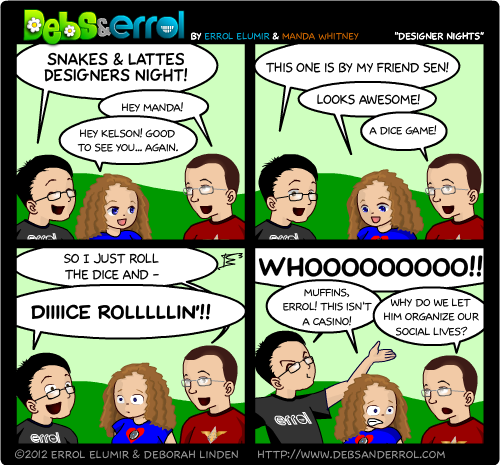 Whitless:  If ever you feel that your board game nights are dull, then you clearly need an Errol.  Everything is exciting for him.  If you REALLY want adventure, get two Elumirs involved.  Board game night is fun!
Errol: Hee hee, yes, my 10 year old joined me. She's louder than me.
Snakes and Lattes has a monthly Board game Designer night. And I try to go. I have board game designer friends, Sen and Jay, and they made Belfort. It was great to see them.
 Kelson:
Games with Manda: Fun times.
Games with Errol: Oh good grief, who thought this was a good idea?
Don't get me wrong, Errol is great, but it's like all his settings were turned to 11 then locked in place. I'm not sure who was louder, Errol or his daughter
Also, 'Muffins'. Really, Manda?
Errol: "Manpans". Get it right.
Whitless: Muffins is the word I use when I can't swear.  That and cheese and crackers.  Although lately they've just been making it into my regular vocabulary :D.  And really, Kelson?  Have you not seen excited Errol before?