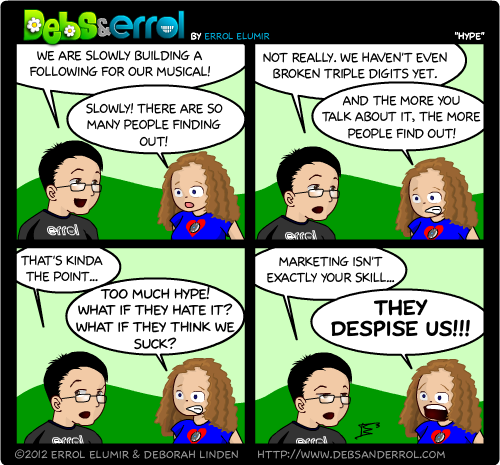 Errol: Yes, this is true. Manpans is always worried people will find out about our Musical. It's like, she wants to keep it a secret or something.
I hope she doesn't treat her boyfriend like that. Can you imagine? Hmmm… that could be another comic.
Boy of Manpans: Hey, let's go out for dinner.
Manpans: YOU MEAN WHERE PEOPLE CAN SEE US?
I feel for you, future boy. I feel for you.
Whitless:  Sadly, yes, this is true and is fairly close to our actual conversations.  I'm terrible at marketing myself out of sheer fear of disappointing the masses and then dealing with the big pile of failure.  Believe it or not, I was worse years ago.  Many people never knew I was doing a show until opening night.  Now at least I invite people over facebook or through a vlog.  Last night I made a huge leap forward and at Errol's request started adding Nano people to our twitter account.  It was terrifying.  But also exciting.  I'm learning :D.