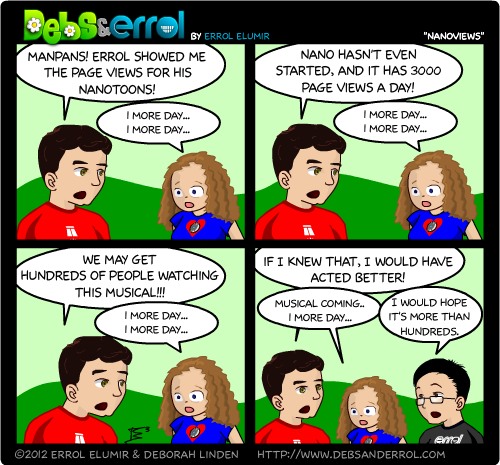 Errol: I told them that there are a lot of people who do Nanowrimo. I told them there were more than 200,000 people that do. That meant, there is a good chance that a lot of people will see the musical. They may not like it, but the audience is there.
But no one listens to me. 😀
The musical will be released tonight, 12am, October 31st. Manpans is a complete basketcase today. She is under a hopeful delusion that no one will see it and that makes her feel better.
We are still working on our NaNoMusical.com website. But you can check it out before we announce it. 😀
Edit: Grrrr… left this in draft form. Sorry guys. 😀
 Whitless:  What are you talking about?!  No one WILL see it!  That's not what movies are for!