Comic 480 – "Fandom Focus"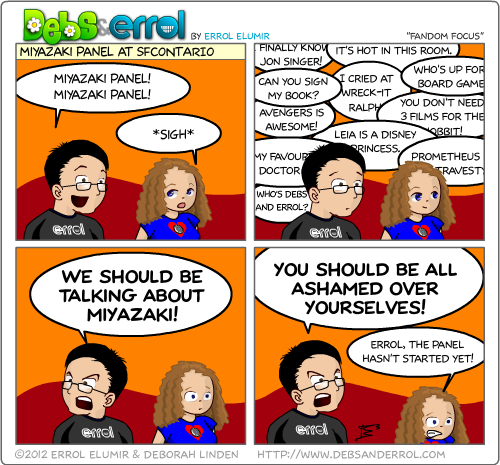 Errol: Ok, this did not happen. I did not start yelling at people during the panel. But I was tempted at times. *laugh* I need to turn down the fandom. 😀
Oh, and it's comic #480. That means, comic 500 is coming soon! What shall we do? Another comic submission? Do you have any suggestions? I'm all ears!
Manda:  Not pictured: The two hour discussion of Miyazaki facts that Errol DIDN'T get to bring up at the panel. (Although to be fair, they were interesting to hear about :D)
Also, Errol has a weird memory, because he seems to remember every topic that was brought up (seriously, those are all right) but not things like "Where is my next gig".