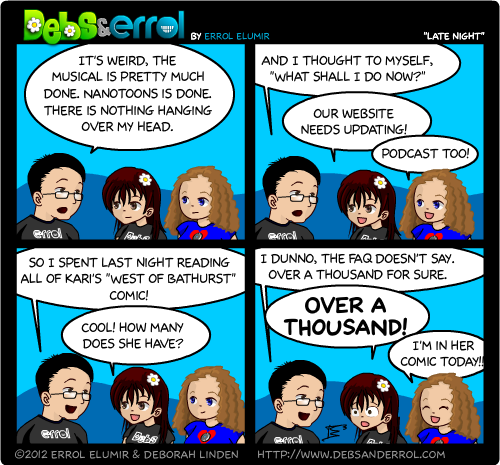 Errol: Yes, I just finished reading West of Bathurst. It seems everyone and their mother was commenting about it in the comments, and there were all these characters popping up in the crossover, and I didn't know who they were and so I had to read it! And now I feel sorry for the regular readers of WoB. Why? Because there is a plot arc, and D&E crossover is interrupting that plot arc! A plot arc that's been going on for about seven years! 😀
As a reminder, every 100 comics I get the users to submit their own Debs & Errol comics. The only restriction is that it is G-rated, and you somehow include us in it. It can be just Debs, it can be just me, you can just talk about us in passing!
I need to get your comics December 6th by the latest!
And what's awesome, you can use Bitstrip too! Brian Layman has made some Debs and Errol characters!
If you created a comic, email me at errol@elumir.com.