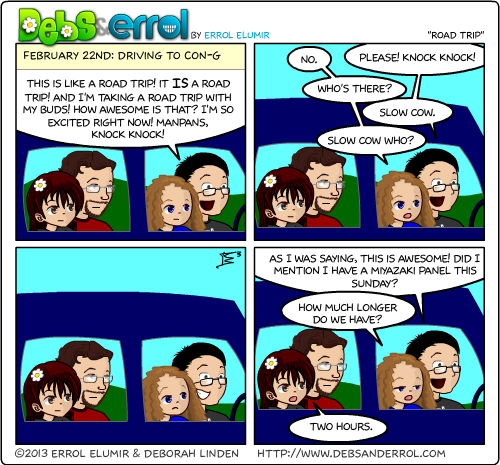 Errol: I forgot how much I loved road trips. 😀 Well, I didn't like the driving aspect of it. I hate driving. 😀 Mind you, no one else will drive. Why do I have to be the responsible one?
Manda: This is an entirely true story, only there were more knock knock jokes. I hate knock knock jokes. Except for interrupting starfish. Actually, I love road trips too, and I was extra excited to be on one but that was diminished by my cold. Poor Errol, if I wasn't so terrified of not being on your insurance or of Toronto highways I would drive.
ALSO! This Sunday is the podcast once again and we're doing things up a little differently! We'll be talking about our favourite fandoms and we wanted to invite you, yes that's right, YOU, to join us on google hang-out! Yup, that means there's the potential for there to be about 10 different people with us on the podcast on Sunday. Let us know if you'd like to be included as we have a limited number! Stay tuned for more details because I don't know what ones to advertise!