Comic 605 – "You Guys Are Great!"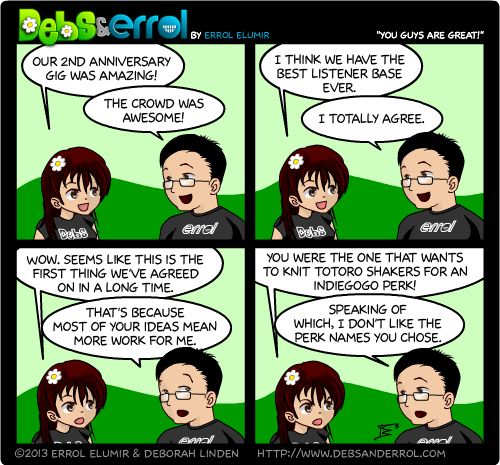 Errol: Hey guys, truth be told, calling people who listen to us 'fans' is uncomfortable to us. I don't mind calling Debs's boys "Debs Fans" because… well… she has a lot of them.
Debs: …oO
However, after Monday night's show, I really just want to scream out I totally love our fanbase. You guys are wonderful, you guys are nice,  you guys are inclusive, you guys are fun, you guys are just amazing. (And being inclusive is very important to me. There's a story there that you should ask Manpans about.)
Seeing the crowd, all packed in to the two small rooms, on crazy uncomfortable stools, some people holding umbrellas as the rain leaked through the roof, joining in as we sing our songs, laughing along with us and Nerds With Guitars, honestly warms my heart.
You guys are amazing.
My sister had a great time. She loved it. She was so glad she could be there. And she and Manpans scoured the city for those lootbags (and Leezet funded them too). I'm so glad she had a good time.
I think I knew most of the people there. And those I didn't know, I was glad to meet. To those of you who joined us, thank you so much. Thank you so much for your support. Thank you so much for laughing with us. Or at us. Or me… all awesome.
Debs: I'm sneaking onto this post though I'm supposed to be MIA out of town until tomorrow. Like Errol said on another post somewhere, it's hard to express how grateful and lucky we feel without it sounding crazy contrived and overly gushy…because the feelings are just that big! I'm not even kidding when I say that the awesome made me cry.

Errol: Everything makes Debs cry…
Last night was completely surreal for me. The fact that we are surrounded by so many people who love and support us (…and know the words!?!?)  is…I don't even know how to finish that sentence. It's better than all the double rainbows in the world, way cooler than BSG will ever be. I would say that it even trumps Totoro. It was a gift to see each and every one of you there. Thank you.

And thank you too those who were there in spirit. You know who you are. One Day We'll Meet for Real. <3

Errol: There are two other things I will talk about.
One is our

indiegogo campaign

. If you are interested in helping there, please take a look.
I will have a birthday. I hope to have the geekiest night of concerts ever on May 31st, a Friday night.




And because you guys are always so supportive, I will try and make sure that there is no cover (or at least $1 cover so that we can apply for a micro-grant.) Please keep that date (or June 1st) free. I want to see if I can get four hours of geeky entertainment. I do not want presents, I just want people. Show up, bring friends, laugh and sing.
And maybe by then, I'll get the stupid "How to Play Catan" song correct this time.
Thanks guys. You are awesome.
Debs: The awesomest.