700 Comics: Comic Submission by Jon
Debs:
Before we get to the comic, we'd like to congratulate our friends at
Monkeyman Productions
 for successfully meeting their
Indiegogo Campaign
goal, mere hours before the campaign ended and thank you lovelies for helping make it happen! No, seriously. We're quite over the moon about it!!  Okay, now it's comic time!
Errol: Every 100 comics we get the D&E community to submit their own D&E comic! I had a theme for the 700th comic submission, but no one listens to the themes I choose (in fact, I don't listen to it either).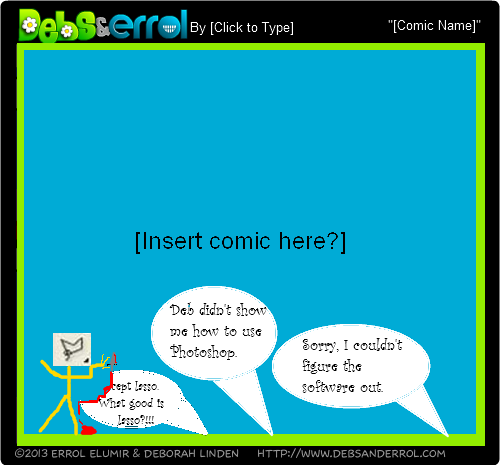 Jon: This is technically true – lasso is the only thing I know how to use, and poorly I must add. I think I mutilated a bubble. 🙁 Don't ask me how I did the template.
Debs:
For those who might not know, Jon is my youngest brother. I taught him lasso when we were trying to extricate photos of furniture from not-so-pretty backgrounds on Photoshop for our mom's partner who is in the process of setting up a
Facebook page
for his woodworking. I'm not exactly a Photoshop guru either and needless to say, my lesson was a little rough around the edges.
Jon: I was given no lesson – just the tip to use lasso. Photoshop makes my head hurt – mspaint ought to be good enough for anyone.
Debs: Oops 😀 I thought I sat down with you! At least you have CS5. I'm still working in CS. Ick.
Jon: Newer isn't necessarily better these days.
Debs: It is weird that we're typing this out instead of just saying it given that we're right beside each other? But now how do we end it? Ahhhhh! Also, I wish WordPress wasn't so finicky with spacing. I pretty much gave up.