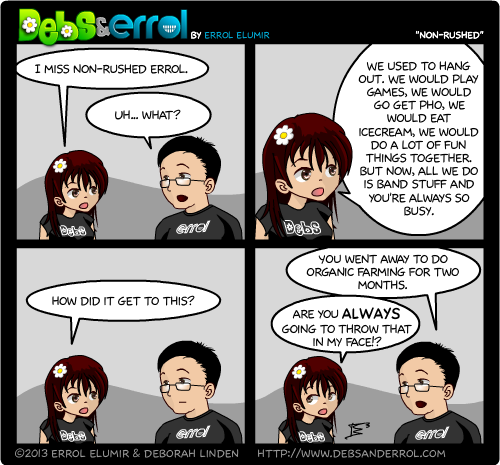 Errol: One day, Debs and I will be able to hang out. One day.
Debs:
During this conversation last night, Errol reminded me that we had hung out until midnight the night before which was true!  We practiced. Then we shot a
video
. Then he went to do the comic and I exported and uploaded EP tracks from his computer for an hour. Then I made him sign thank you cards. Then we talked about Indiegogo perks before I went home. So it was hanging out…With A Purpose!
I really love doing band things but then I see that Errol is tired and busy, and I feel bad occupying him for non-essential (read: non-band) things like games or ice cream. I'd rather he get more sleep. Of course, he just plays Agricola on his iPad after I leave 😛