Comic 750 – "NaNoWriMo Site Is Open!"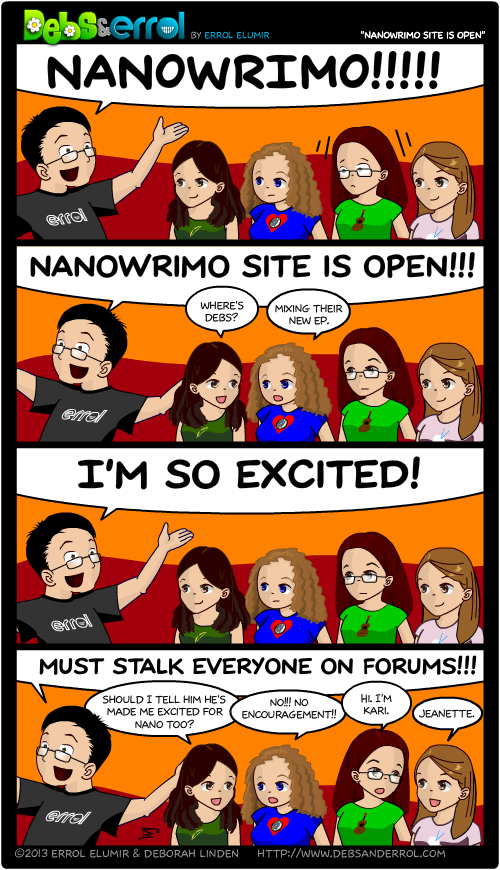 Errol:
Yesterday, the
NaNoWriMo
site opened up. I was excited. I also had a honey cruller.
Every morning, I say good morning to my knitting group, Manpans, Amy, Kari and Jeanette. That morning, I was apparently pretty insane with my excitement.
Pretty… insane.
Debs was off doing work and being productive.
Debs: He brought me into the group chat for a few minutes before I left for Aaron's. Then he proceeded to say disturbing things involving bodily functions. There should be more guys in the group chat. Pipe in Alex? 😀
Whitless: I think he might have been foaming at the mouth with excitement. He also made us all go to the forum to introduce ourselves. NaNo is almost here! I'll get to participate this year!
Kari:
…I wasn't even there.  I teach all day on Wednesdays.  Errol is incapable of remembering this.  I get these sad little messages reading, "Where were you?  You weren't chatting with us!  We missed you!"  And I'm all, "Dude, I was standing in a classroom in front of twenty-eight undergrads, ranting about essay writing."  Speaking of which, I need to go do that again now.
Oh…and yes, Errol gave me the Power of the Blurb a week or so ago.  He may come to regret it.  He doesn't know I'm writing this particular blurb.  Dun dun dunnnn.