Comic 773 – "Errol's in a Play"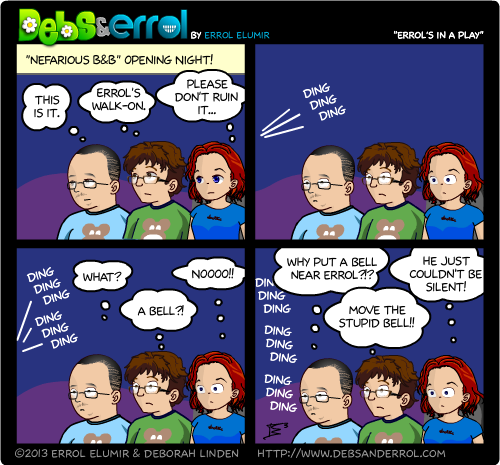 Errol:
I was all set. I was all set to do my part, shake hands with Doctor Nefarious, and walk off. And then I saw the bell. A nice shiny reception bell. And it wanted to belled, as all bells do. And I couldn't help myself. After a couple of times, Doctor Nefarious realized he had to take it away in order to get me out. I was so happy.
It was a fun show though! I enjoyed it! You can still get tickets if you live in Toronto! Check out: The Nefarious Bed & Breakfast.
Oh, one other thing we need to tell you about. This Friday, we have a gig with the Holodeck Follies! I've been tweeting about it, and it's coming soon! So much stuff in November!
Whitless: Seriously, the look of delight on his face and Doctor Nefarious quietly taking the bell away was priceless. Congrats to the cast and crew surviving Errol and having a great opening night!