#VoteGeek – CBC's Searchlight Contest
We Need Your Help!
Join us in supporting indie geek musicians by voting for them in #Searchlight, an online competition being held by CBC Radio (the Canadian Broadcasting Corporation) to discover Canada's hottest new musical talents. You can vote once a day for up to 10 bands until April 6th!
And you can win prizes! Not only is CBC itself giving away random prizes to voters, all the nerd bands that have entered are pitching in and will be giving away physical and mp3 copies of their albums in our #VoteGeek contest. Here's what you can win:
1st Prize – A physical CD from each band listed below. They'll even pitch in shipping!
2nd Prize – A downloadable copy of an album from each band below.
How can you win? Follow the steps below!
Step 1: Vote for all of us using the links below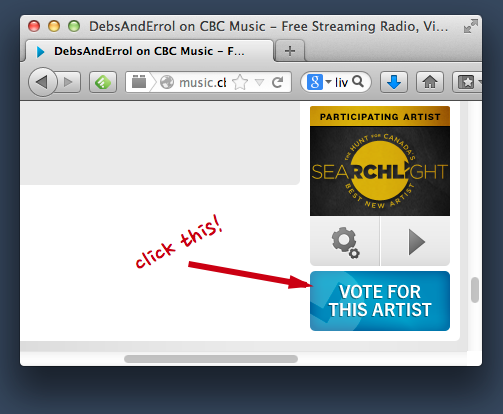 If you go to each link, you can find a blue button that says "Vote for this Artist."
Vote Copy Red Leader – Tatooine Blues
Vote Kari Maaren – Kids These Days
Vote The Blast Processors – We Ride
Vote Press Start 2 Play – 8-Bit Memory
Vote Debs & Errol – Geek Love Song
Editor's Note: Sadly, Nerds With Guitars had internet problems uploading and couldn't get their song in. Show some love and check them out because they are fundamental in supporting and promoting Nerd Music in Toronto!
Step 2: After Voting, Share or Tweet this page!
After you vote, every day, we want you to tweet on twitter or share on facebook with the two tags #VoteGeek and #Searchlight! If you mention @cbcmusic, that'd be awesome!
We've even made the tweeting part easy, you can click this link (and you can customize it before you tweet, don't worry):

And for you Facebook people, please tag our facebook page so we know you shared it! Also add in #VoteGeek!

Please Note:
You can vote once a day, and you can vote for up to 10 bands in one day.
Winners will be chosen by a combination of voting and influence! That's right, we are going to track how often your posts/tweets get shared! Errol joined so many hashtag tracking sites.
Getting other people to share your tweets is also key!
Thanks for all the support, folks! And let's inundate Canada with geekery!