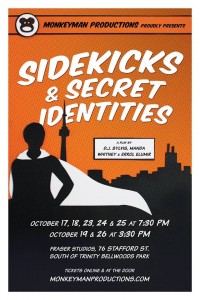 Errol: This is it! This is the play that Manda and I wrote for Monkeyman Theatre! Well, originally it was a webseries, and it still is a webseries, but we've adopted it to be performed as a play and we're super excited!
Starring Jordi O'Dael as Flex girl and Andrew Gaunce as Minion 5, it will be shown seven times! And our good friend Victoria Urquhart is directing it! We are crazy excited!
For those wondering what is happening with the webseries, the principal photography is done! That means the main footage has been shot and now it's just all the hard stuff, like editing, and re-takes, and ADR and stuff like that.
In the mean time, you can see the play version! I can't wait to see how they interpret characters written for me and Manda!
You can check out the Facebook event so you can see all the cool people going, or you can see the details here! On our page! Which I just stole from the description of the Facebook event.
This fall, Monkeyman Productions brings you a theatrical anthology set in the world of Supers – where the heroes are unexpected, the bystanders aren't all that innocent, and the sidekicks finally get their moment of glory!

Featuring "Sidekicks," by Errol Elumir and 'Manda Whitney; and "Fortress of Solitude" and "Super" by D.J. Sylvis.

Directed by Torey Urquhart
Stage Managed by Emma Moore
Technical Direction by Lisa Sciannella
Featuring Kelly Preeper, Sean Kaufmann, Jordi O'Dael, and Andrew Gaunce.

For full information on the show, visit Sidekicks & Secret Identities on Monekyman Production's webpage.

Performance dates are as follows:

Friday, Oct. 17th at 7:30pm
Saturday, Oct. 18th at 7:30pm
Sunday, Oct. 19th at 3:30pm (Our special SIDEKICKS SUNDAY! See below.)
Thursday, Oct. 23rd at 7:30pm
Friday, Oct. 24th at 7:30pm
Saturday, Oct. 25th at 7:30pm
Sunday, Oct. 26th at 3:30pm

Fraser Studios, 76 Stafford Street, Toronto

Please note that the venue is not fully accessible.

And also, info on our special performance Sunday, Oct. 19th – Sidekicks Sunday!