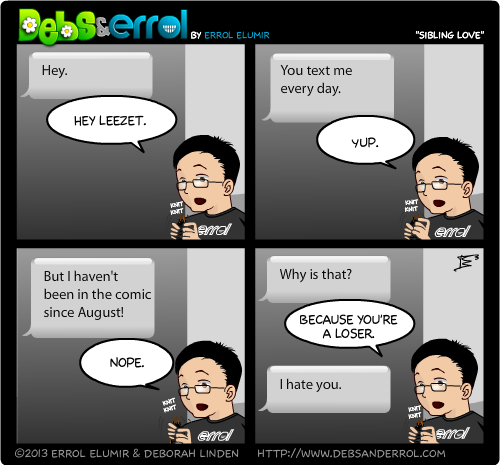 Errol: Leezet brought this up not too long ago. I didn't know she was still wanting to be in the comic.
Our relationship is a lot like this. If you ever listen to anything where she and I interact, it's not much different than this.
But we do talk almost every day. Now, I just bring her into Google Hangouts and make her talk to Manpans while I knit. All good.
Brian: Hey, I can actually post a "This comic is true" blurb!  Lots of times I get to join in on the hangouts with Leezet and Errol. Errol knits, I code, and Leezet is on her cell phone; it doesn't inspire many comics.

  Still there are lots of laughs and I haven't heard "I hate you." used that much in any other conversations! It's said in love. Leezet is an awesome and fun person and I hope our friendship can continue to grow.  ( Awww

)