[QUEST] Toronto Geek Bands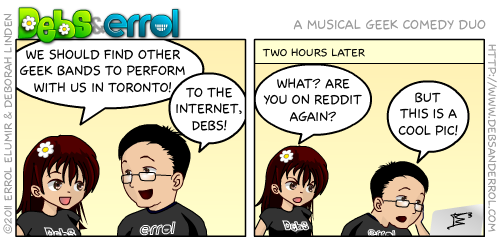 I was chatting with Adam Ward, of Pond and Ward, and we were trying to find time to do a show featuring both of us. HOWEVER, we wanted to add more geeky bands to this mix. How hard could this be? Well, considering I'm new to this whole music scene, it was very hard.
I posted something on Reddit, and that didn't do anything.
I then went over to Google+ and asked Julia Sherred because she plays all sorts of geeky music and she's from BC. However, she wasn't very familiar with many.
And so my quest continues! However, I did find Nerds with Guitars! This is exciting, another nerdy geek duo!
I will keep you all updated on my quest. 😀 Maybe I can put a page together of Toronto Geek Bands. That would be great!