We Got Played on CBC Radio! Huzzah!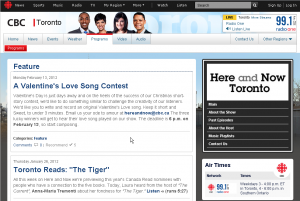 Errol: CBC Radio, Here and Now had a Valentine Love Song Contest, and on a whim, I sent Geek Love Song (the one off of the upcoming CD) in!
And it won third place! HUZZAH!
This is a triumph for geeks everywhere! I honestly didn't think it would get picked, and for that matter, forgot about it until I received the email. Only thing is, I was late! I didn't get to hear it! Stay tuned, because when that archive is up, I'm downloading that sucker!
I've been talking in ALL CAPS for the last hour, I'm exhausted from excitement! 😀
Update: You would think the other two winners would have social marketed this thing… but NO! I can't find any mention who the other two winners are, or where to download. Will let you know. 😀
Update 2: Hee hee, was just watching "Latest Tweets" on their website trying to find show archives, and you guys are all over it retweeting GLS. You guys are awesome. 😀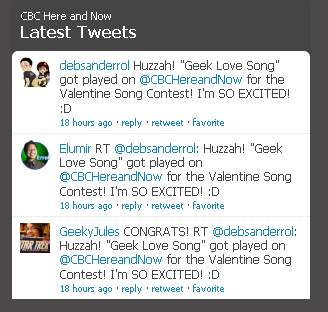 Update 3: Hey! I found the person who won 2nd place in the contest! Huzzah! His name is Darin Martin. He has a blog on blogger, and I tried leaving a comment twice, and I think I failed both times. So just in case it now looks like I'm some crazed comment stalker, I just stopped trying.