Comic 249 – "Valentine Song"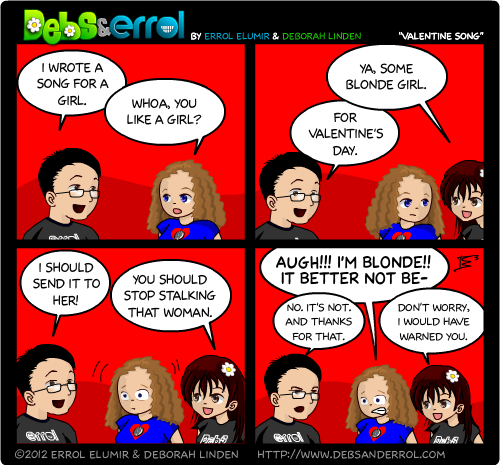 Errol: The problem with being male and having female creative partners is that you have to eventually reassure them that you don't like them in a romantic way. When you are an old, unattractive male, they all naturally assume you are some creepy guy that just wants some nubile fling!
Debs: I never assumed…GARRRRRRRRRRRGH! Isn't the word 'nubile' meant for 18 year olds?
Debs has a problem with males liking her. I have a problem with females thinking I like them. *laugh*
Debs: Admit it, Errol.  You like the fact that guys like me because then they are more likely to come to our shows.
Happy Valentine's day! They're going to kill me for this post, I just know it.
Debs: Hey…I'm just glad you didn't make today's comic about me!
Hah! See? I knew you thought I liked you. *sigh*
Whitless: For the record, I never thought Errol interested in me romantically :P.  I was more confused that he wanted to be my friend in the first place, 'cause you know… he's cool. 
Are you sure we're thinking of the same guy?
But I do empathize with the perception of creative partners in this world.  There's been a few co-actors/writers over the years that my friends have assumed I was romantically involved with simply because we meshed so well on stage.  It's a hard relationship to describe to people, so it's easier just to let them assume.
Also for the record: Errol was brilliant for getting married on Valentine's Day.  It's like a 2-for-1 deal!  And easy to remember!
Errol: I don't believe any of you.