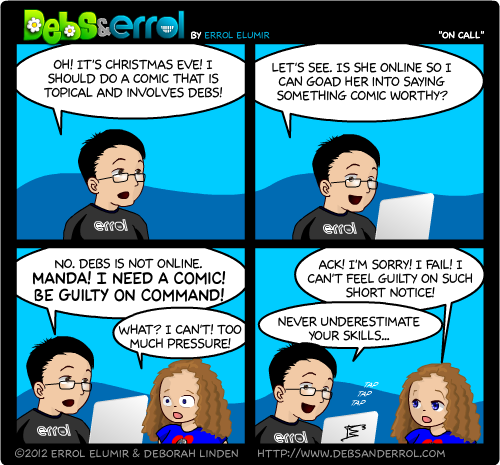 Errol: The Christmas season is a crazy time of year for me because I am the music director at my church and that means a lot of music to be played. This weekend I had family over and I have three services to play at as well as a Christmas dinner. And of course, we had the #P4A and the Linus And Lucy A Cappella vid to get out before Christmas. So if Jaxom is wondering why I'm always busy, I am!
Although we did get presents off of monsters in Terraria. That was awesome. 😀 And now we have the Santa Clause NPC in our house because we killed off the Frost Legion. All good.
Whitless: MEEEERRRRYYYY CHRISTMAS! We played much Christmas Terraria. Errol now wants to make a giant candy cane pillar out of the candy cane blocks we harvested from the Frost Legion Snowmen…truly a Chistmas to remember.
Debs: I don't think I"ll ever understand this Terraria thing. Happy Holidays everyone!