Contest: Choose A New Song for Us!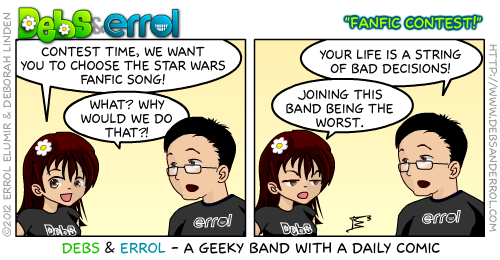 So remember this comic a few days ago when Errol said he wouldn't trust you guys to choose us a song for our upcoming Fan Fiction: Star Wars gig? Well, actually we ARE letting you choose! Here's how:
1) Head on over to FanFiction.net, where you will find:
(Above link takes you to a custom search, but feel free to find ones for yourself by searching "Star Wars musical" or "Star Wars parodies").
2) Find something awesome/cringeworthy/hilarious that you could see us singing. It could be anything! The only stipulation is that it has to be about Star Wars (obviously) and also G-rated (so no swearing or sex).
3) Comment here with a link anytime between now and 8:00PM on Sunday, December 23rd. We'll pick our favourite five and then put it to a vote! Then we'll do some hasty practicing and perform it on Saturday, January 5th!
Errol: Oh, we're going to practice? Good idea.