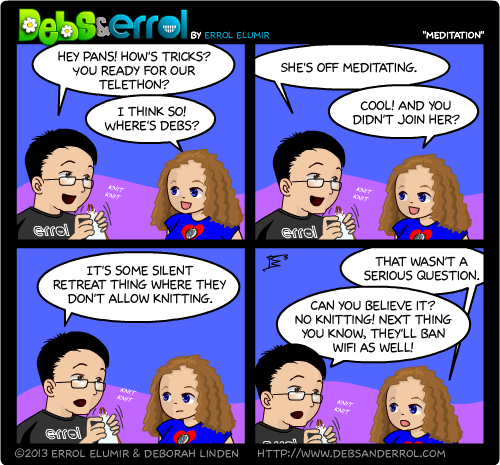 Errol: Debs is off meditating somewhere. And we have a Telethon this Sunday. I really should start advertising that or something.
And I finally fixed Manpans's comic character so I can include her in the comic! Huzzah! Yes, I still have to fix all the characters. *sigh*
Manda: I was BROKEN?! And YAY TELETHON!….I still don't know what we have to do for that.
That's why Manpans hasn't been in the comic, all the characters are still version 1.0, and I'm trying to get them up to 1.5. If you're thinking I'm not hanging out with the Manpans, just ask her. She's the one that handles the brunt of me. I rarely see Debs. She goes off and meditates…
Manda: It's true, although Errol's been pretty busy and has not been binge texting. Sometimes it gets to the point where I don't even feel guilty! But then he comes back and the mind games begin anew. It's like Jedi Training, only instead of failing to raise x-wings out of the water, I fail at deflecting guilt. I'm getting there though! I probably made an incorrect star wars reference too. The internet is going to kill me. Again.

Debs: …