Comic 530 – "ASA Adventure"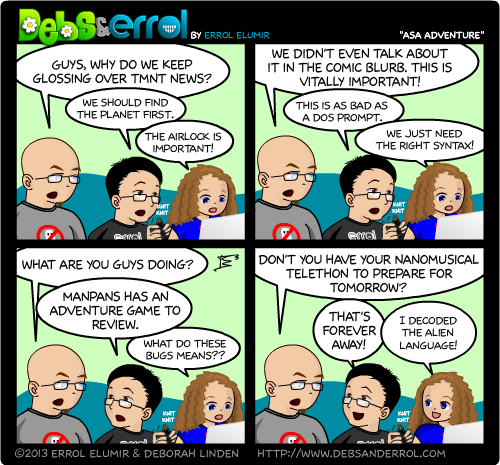 Errol: As you may know, Manpans is a reviewer on AdventureGamers.com and so we played an adventure game set in space and it was all sorts of awesome.
Manda: We played it for five hours last night. We were determined NOT TO LET THOSE PUZZLES DEFEAT US! Many combinations were attempted. Many things were yelled in frustration. Many squees of delight were uttered when we finally got it. Good times.
And tomorrow is our Nanomusical Live Streaming Video Telethon for the NaNoMusical IndieGoGo Campaign!
Here's the info:
It's Errol here and we have a fun thing we want to do to help along our campaign.

We want to do a streaming video cast telethon!

We will be on G+ Hangouts, and we will stream it on Youtube, and you guys can watch, comment, ask questions, anything! It will be all sorts of fun!

WHEN:
Sunday, January 13th
14:00pm EST

WHO:
Errol, Manda and Blythe starting at 14:00 EST
Kelsey & Babs around 17:00 EST
Luke around 21:00 EST

WHAT:
– Interviews of cast!
– Interview with OLL themselves!
– Video commentaries of musical and bloopers!
– Blooper Episode 6 will be released!
– Singing!
– Errol will knit!

Come and hang out with us! It will be all sorts of fun! And spread the word. That is what we truly need!

Thanks so much for all your support, and we will see you Sunday!