Comic 537 – "Debs is back"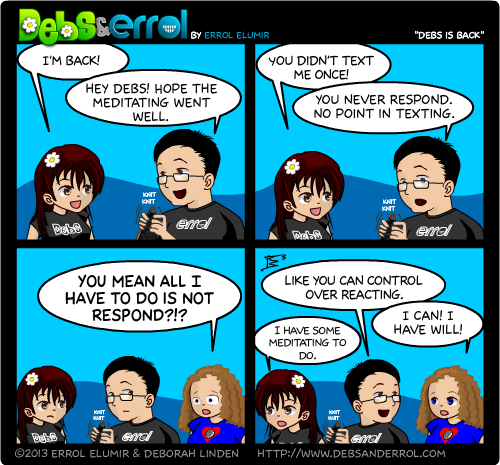 Errol: I forgot when Debs was coming back and then I get the text "Wow not even 1 text?" I wasn't going to text! She's on a retreat away from civilization! She wouldn't have responded anyway. I need people to at least acknowledge they're annoyed by me!
Manda: So that's all it takes?…nah, I have ultimate faith that one day I will best Errol in comebacks. So I need all the practice I can get. It might take years. And hello again Debs!
Debs: Funny you mention that; the entire point of learning this is so that you can control your overreacting. 🙂 Also, Errol, I wasn't actually back when I texted you; the last day of the course is a buffer day when you can contact the outside world again. The signal was terrible though – darn Chatr! And Hi Manda!