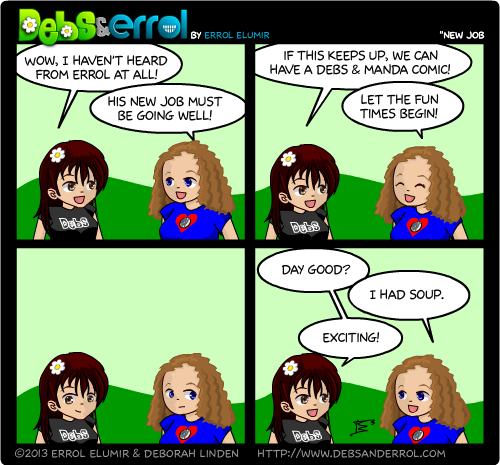 Errol: Now, I'm not saying their lives are dull without me. Definitely not. I have no idea what they do though, so maybe I should start getting them to give me comic suggestions of Debs and Manpans fun. 😀
Manda: I DID have soup! It was delicious.
Debs: I want soup! Ja-Mez just asked if I needed anything form the store and I asked him for an onion for my belt, which was the style at the time and can also be used to make soup.

Manda: It CAN! OH, glorious onions, you make all the soups delicious but you're awful to chop up. I don't think there's a soup without onion…wait, i have dessert soups in my recipe book, never mind :D. I could go on and on about soup. This is what happens when Errol leaves.