Comic 562 – "Cartoonathon"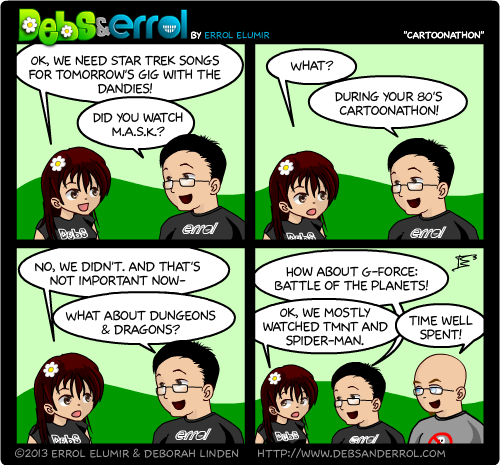 Errol: Debs, Ja-mez and friends had an 80's cartoonathon. I don't even know if any of them were born then.
Debs: Hey! We were SO all born by then! Have you ever sat down and thought about just how many 80s cartoons there actually are? There are a ton! We could easily do this again with 10 different shows (like the ones you mentioned, also My Pet Monster and Inspector Gadget). 😀
For the curious (or those who weren't following along on Facebook or Twitter yesterday), we watched Ninja Turtles, My Little Pony, Ghostbusters (Ja-Mez's pick), Spider-Man and his Amazing Friends, C.O.P.S., Rainbow Brite (my pick!), Thundercats, She-Ra, Strawberry Shortcake and Bravestarr. 
Here's what we learned:
1) All the smart people wear glasses (unless you're a turtle).
2) There is always a horse/unicorn. If there is no horse, there is a reporter.
3) The skirts are disturbingly short. Seriously. How the heck do you do anything in those things?
4) The leading female characters are usually redheads. Otherwise, they're blondes. Definitely not brunettes.

I'm going to link to the Strawberry Shortcake Episode we watched because it was seriously underrated (the guys were feeling vindictive) and because my experience watching it was completely bizarre. Though I remember liking it as a kid, my recollections of the show were extremely vague and I had no memories of particular episodes. I must have had this on a VHS or something because I literally knew every single frame and vocal nuance and even sang the songs off by heart. It's a memory I didn't even know I had so it was…weird.