Comic 647 – "Nefarious Song"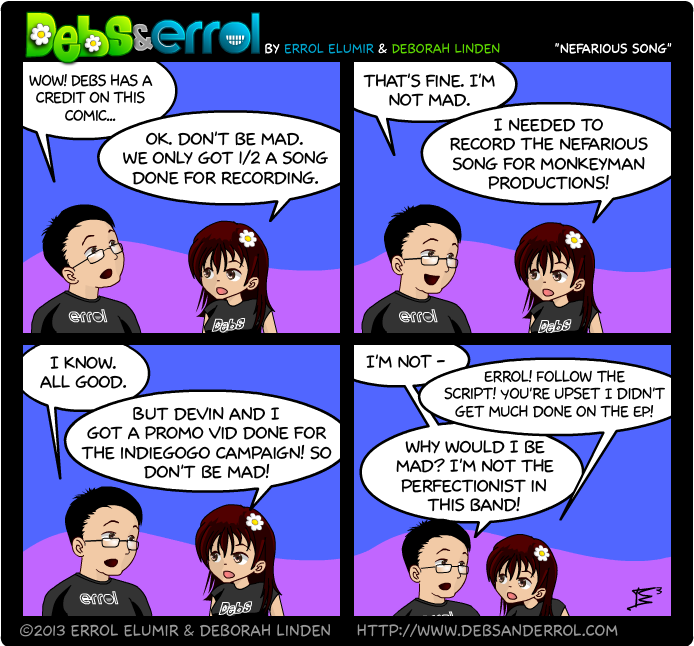 Errol:
Look! Debs had an idea for a comic and was going to do it, but then she needed to do somed editing for the promo vid and thus gave the script to me. And then, I was all, "But why would I be mad? I'm not? Not even an iota. I don't understand." Of course, things like fidelity to truth has never been that much of an issue with me, but I want to reflect the general sense of our band. 😀
And… it wasn't an issue for me. Are there things that Debs does that drive me crazy? Of course. This isn't one of them. *LAUGH*
And now I have to figure out how to do my daily update on Facebook to promote the campaign. Do you know HOW HARD THAT IS?
Debs: Is one of the things that drive you crazy my lack of editing ability? LOOK, I EDITED A VID! Devin sent me the footage we got off his camera and then my brother helped me convert the ding to the other ding. Okay, the editing needs work, but do you know how dumb iMovie is as an interface? Awful! Plus, it's really hard to anticipate what those transition dudes do, especially when your computer is all "I'm just going to keep freezing" I'm just impressed that I did the audio track doodadoo thing at the end. And made the credits look like Errol's. LOOK, I EDITED A VID!